Friday, February 15, 2013 @ Friday, February 15, 2013
[3rd February] First Meeting Of 2013
[Click Image to See Full Size]
Monday, January 28, 2013 @ Monday, January 28, 2013
Sunday, March 18, 2012 @ Sunday, March 18, 2012
2nd general meeting (18/03/12) of THE 1ST MALAYSIAN GAVEL CLUB !
Hi and welcome back fellow Gaveliers (it's a made-up word of course!), Yes today is the 18th of March and also our 2nd general meeting of year 2012! It is I,
Guan Ren
, who will be your gavel-blogger for today (yeap I made up that word too), so bear with me and read on!
Today went smoothly despite the lacking amount of people, can't blame it on anyone because it is after all, still a holiday for most of us! So I shall grant you absentees a chance to redeem yourself and attend our next general meeting which is on the
25th of March!
2.15pm - 4.15pm ,
Subang Jaya Buddhist Association,
1st floor AV room (located next to the meeting room)!
So clear up your schedule and come over for an enlightening experience to enrich your communication and public speaking skills!
Now to the details of the general meeting of today, we introduced a new role-- the
Time Keeper
! As the title suggests, this role-player (can be taken up by the table topics evaluator too) will keep track of the time of the speech of each speakers to ensure speakers reach the minimum amount of time for the speech and also don't exceed the time limit, this benefits the speaker in such a way that with practice, he/she can organize the speech better in their head and gracefully deliver it!
Moving on , our president,
Xin Vee
did a project speech in today's meeting! Project speech is actually a prepared speech that may vary from 4-7 minutes depending of the topic and objectives. This project speech will be delivered from seasoned members that received the manual (Competent Communication) that is shipped from the U.S, the Toastmasters International. (for more information, please visit
http://www.toastmasters.org/
)
To become a member, you'll have to pay RM100 per year for the first time to be our very Gavel club member and RM90 for the following years. Yes when you become a member, you will receive the Competent Communication manual as mentioned previously.
Back to topic, details of the meeting! We had a total of 7 table topic speakers today and the speeches delivered were interesting and yet awe-inspiring and the word of the day was '
Awesome
'. A common word used by people nowadays and I believe all of you readers already know it! As I mentioned earlier,
Xin Vee
delivered her project speech which is '
Flatulence 101
' that was evaluated by our counselor,
Bro.Chuan
. What is flatulence you ask?! I was scratching my head when the title was invoked, if you are doing the same too, well, go search it up!
Kudos to Ms.president and special thanks to
TOTD, Jason Teh
!
Overall the speeches delivered today were smooth and informative at the same time, and our heroine,
Xin Vee
also
did a table topic speech by the way, got the 'Best Speaker' of the session! Truly
awesome
! Opps looks like I talked/wrote too much already, I guess that's all for today, Gaveliers! I really hope to see more new faces (actually old faces will do too) in the next meeting! See you then!
Wednesday, February 22, 2012 @ Wednesday, February 22, 2012
YUPS! 19th February 2012 FIRST GENERAL MEETING OF 2012 XD
Welcome dear listeners, you shall now be rocking on with DJ る.
YES AFTER A LONG BREAK I, る has given a new life to this BLOG! yes IT HAS BE REMADE :) by me
and i shall be your weekly poster x)
SO! what happened last week?
WELL we had AN AMAZING number of people! yes AMAZING
THIS year we have introduced a new role! le grammarian :) and the word of the day was : Amazing
now you get why i kept using amazing? :P
as usual we have our table topics :) and we had 10 speakers that day!
we had among them, Jason Kang, Rohen, Zoe, Collin and a few others
One of which I have a suspicion have a "wei" in her name... can't seem to remember tho @,@ my apologies.
Here is a picture for those of you who have an Amazingly better memory than me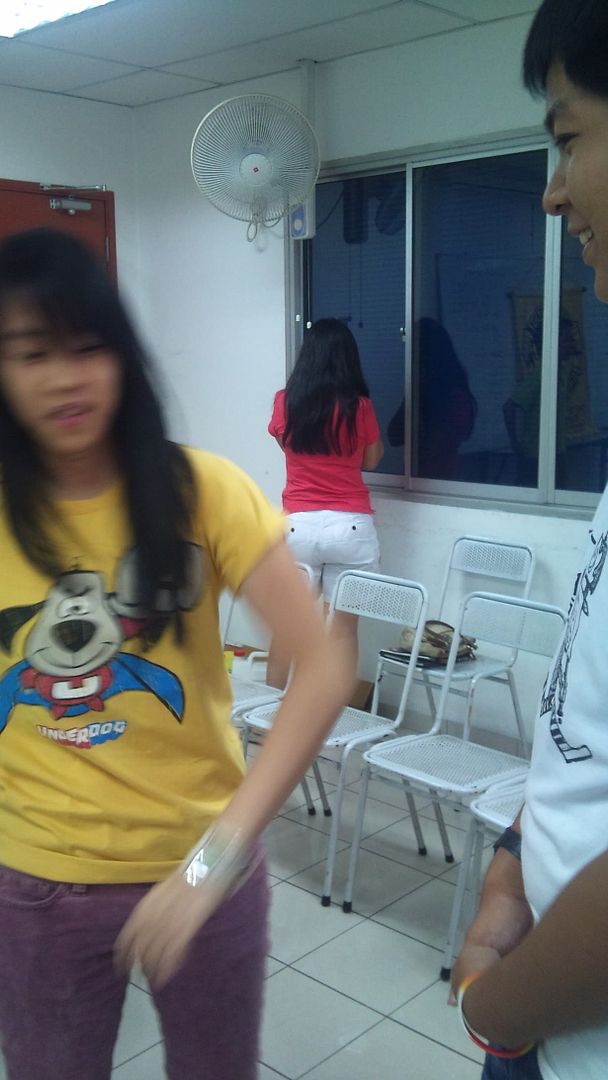 she is the one in yellow by the way (if you suddenly mistook the one in white as a girl)
[game session]
she is probably named Wei Xin, not so sure...
Here is one other "i forgot his name"
but he is cute x) thats whats important
see...
Kawaiinee
Oh and during our Tabletopics session
we were very honored to have
Ms. Zoe [the one in black] to teach us Japanese
one of them was "I am hungry" which my memory could not remember and the other which is how to introduce your name (which I already know) you go something like this:
watashiwa [insert your name here] desu :)
here is just the few pictures from the day itself. I regret to say that I no pictures on them giving their speeches as i was busy being the TOTD [thank you very much Jason Teh for taking your time]
but! I have them playing games
which you can see by clicking the gallery button towards your right :)
OH! and CONGRATULATIONS TO MR ROHAN
FOR BEING THE BEST SPEAKER OF THE DAY! :) he was epic x)
ps my deepest apologies for the blurry pics... i am using my phone as I can't find my DSLR @.@
Tuesday, June 15, 2010 @ Tuesday, June 15, 2010
Our Next Meeting will be on....
To all readers,
Our next Gavel Club Meeting will be on 20th June 2010. Do attend as we'll be conducting fun and exciting activities as usual ! We'll see you then !
Date: 20 June 2010
Day: Sunday
Time:2-4pm
Venue: Subang Jaya Buddhist Association (Lot PT 12593, Jalan Kewajipan, SS13, 47500 Subang Jaya, Selangor, Malaysia)
Thank you ! Happy holidays !
Sincerely,
Kristle Tan Swea Ching